How to do Remarketing in AdWords
We all aware of the fact that Adwords management or pay per click (PPC) is now become the main source of earnings instantly in any business.
PPC is not only used for targeting new users but also used for re marketing. But most people don't know how to do re-marketing in AdWords.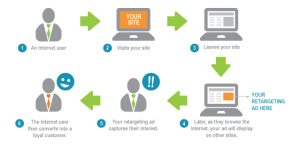 Remarketing is a technique which let us reach those people which are  previously visited your website by showing the relevant ads when they search anything on web search engines like google, Bing , yahoo etc.
Importance of Remarketing
The main importance of remarketing or retargeting in adwords management are illustrated below
Increase conversion rates by targeting previous site visitors
It also increases the chances of product selling
Types of Retargeting in Online marketing
Three types of remarketing is done in digital marketing
Site retargeting: Site retargeting means that marketers can reach customers who visited their website previously
Mobile retargeting: Mobile remarketing follows standard mobile web ad formats and other native social media ads format with which if someone visited your site then you can re-target them by showing the ads on their mobile while surfing facebook, twitter and other social medias on their mobiles.
Retargeting on social: Retargeting on social means capturing the previous visitors by running ad formats of social media. So that if the visitor will open their facebook or other social media then your ad is shown in top.
Important tips for effective Retargeting
Do not show too many irrelevant impression. If you are showing too many impressions to the visitors then i will consider you spam
Your impressions should be balanced means not high or low. So that the visitors do not consider you spam
Do not neglect your creativity means design creative campaigns so that it looks attractive and the chances of conversions increase
Do not run the campaign for those customers which already purchase the product from your store. If you are showing the same product ad to that customer then it will have bad impact and you can loose your customer
Do not run your retargeting ads from multiple service providers at same time
Proper measurement track is needed to be maintained by tools like google analytic so that you got the suitable information and improve your campaign by different changes according to the track
Your segment should be specific for example if you are doing remarketing of your formal shoes product then your landing page is also of formal shoes so that the re targeted customer can convert easily.
" For best remarketing services contact PPCChamp at +91 9501488575 or email us at ppcchampreports@gmail.com"
Contact Information
Name: PPCChamp
Address: SCO 177, 2nd Floor, Sector 37 C, Chandigarh, India
Phone Number: +91 9501488575
Skype Id: ppc.champ