Role of Negative Keywords in Adwords campaign Optimization
All the digital marketing companies, seo consultants, freelancers who run campaigns on google are aware of the role of negative keywords in Adwords campaign optimization.
All of them knows that your pay per click advertisement do not depend upon one factors there are many small but important things which combine with each other to make relevant ad so that it can get top position of their paid per click (PPC) advertisement.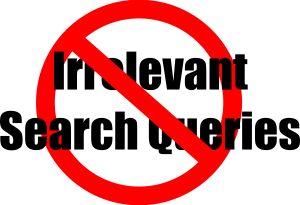 Why Negative Keywords are Necessary in Adwords Campaign
The main reasons for using negative keywords in Ad campaign are
It can reduce your Cost per Impression (CPM)
Do not show your pay per click advertisement on irrelevant queries.
It can increase the the CTR of your ads by showing displaying your advertisement on relevant queries related to you.
It not only improve your click through rate but it also increase the chances of reaching to your potential customers
If you do not add negative keywords in your ppc campaign then it not only increase the impressions but also there are chances of conversions and click through rate is very low.
Types of Negative Keywords
There are mainly two types of match used in negative keywords
Exact Match:

In this you do not need to add the complete phrase or query where you don't want to show your ppc ad. you just need to add the main keyword and after that google itself recommend that you do not want to show your advertisement on this particular keyword.

Phrase match:

In phrase match you need to add complete phrase where you do not want to show your advertisement. In this your advertisement not shown in this keyword. It is preferred very less by PPC experts because you do not know what user is going to search.
How to use and Optimize Negative Keywords in Adwords
As we all aware of the fact that in Google adwords the policies are very strict and you cannot use brand keywords in your campaign.
In Google it becomes necessary that campaign should contain negative because if you do not add those keywords then you can well aware and mature to think that where your ads shown because 80% of people uses google rather than other search engines.
The main importance of using negative keywords in AdWords are
If your campaign is of selling chess and you want that your advertisement is shown all over the world then do not target any location
You also want do not shown on irrelevant queries like free, cheap, how, make then add these keywords on negative keyword list.
Always remember change your negative keywords according to the research like if your ad is shown in " Importance of playing chess" then add this keyword as phrase match.
But prefer Exact match more than phrase match. In exact match you need to add keywords like free, Cheap etc.
For best PPC Consultant services contact PPCChamp now and get best CTR and conversions in online marketing.
Contact Information
Name: PPCChamp
Phone Number: +91 9915337448
Skype ID: ppc.champ
" We are Expert in Adwords Campaign management but our services impress you even more"