How to Target perfect Customers in Bing Ads
If you have no idea how to target perfect customers in bing ads, then follow this article. We will be discuss everything about location, devices and all advanced option provided by bing ads for reach to potential audience. 
When we create ads in bing its very important to target perfect audience, otherwise we will be lose all our amount without getting any lead. With additional targeting you can reach narrow to your desired customers and provide more control to advertisers.
How to target customer using Advanced Locator in Bing Ads
First log-in with your account and go to >> Campaign >> ADS >> setting >> Location There will be two options, choose first option if you want to target audience world wide. For custom target choose second option >> advanced Search below the location search box.
A tab will be open will map locator, type your countries which you want to target and select OK, as show in below image I have select India and Afghanistan. If you want to deselect some cities from your specific country, search for that city. When it will be appear in search, there will be two option on right side include or exclude, click on exclude.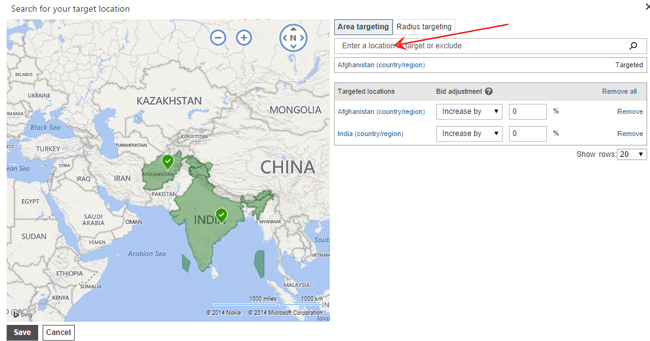 Now your ads will be target whole country, but not the excluded city. You can also increase or decrease bids rate for particular city or country, where you think more potential  audience present for your business. You also can select radius option, and choose 10,20 or 30 km or miles surrounded area from your selected location.
How to choose advanced location option in bing ads
There are three options in advanced location for choosing perfect audience, by selecting firsts option your ad will be show to audience which is physically located in your city or outside of your targeted city, buy search for your city and service related terms.

By selecting second option your ad will be show to people who are physically located in your targeted area or city. If you choose third option, it means only those people can see your ads those are not physically present in your targeted city but searching for your targeted location from outside to that area.
How to setup advanced targeting options in bing ads
This option help you to target your audience up to narrow results and more closer to accurate audience.It has three options, by choosing ad scheduled, you can choose all days or particular days of week. For Example- If you are running your business Monday to Friday, your ad will be show only Monday to Friday, and automatically will be turn off for Saturday and Sunday.

In Demographic option you can chose your ads for particular gender or particular age. And by selecting Device option you can limited your ads for Desktop/ laptop or smartphones. In all these option you can increase or decrease your bids for specific option.
If you have any issue, contact PPCChamp at below contact info. We provide Google and bing Adwords management at reasonable prices.
Contact Information
NAME: PPCChamp
CONTACT NUMBER: +91 9915337448
Skype ID: ppc.champ