Best SEO Services in Noida Uttar Pradesh
Noida is the fast growing city of Uttar Pradesh & part of NCA ( National Capital Region). It is hub of multinational companies, IT industries & our souring companies. Noida has large contribution in economic growth of country. Here a PPCChamp is online marketing company which provide best SEO services in Noida Uttar Pradesh.
There is number of digital marketing companies in Noida but question is that which is best for SEO Services. Answer is PPCChamp. We provide our service on bases white hat SEO techniques & Google algorithm.
We give a guaranty of provide organic result in first page of search engines like Google, Yahoo, Bing etc . You can contact us at +91 9915337448 & mail at ppcchampreports@gmail.com for more information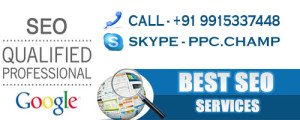 About Noida
NOIDA has emerged as a planned, integrated, modern Industrial City. It is part of NCR & connected with Delhi. It is home of multinational companies & IT, BPO industries.
Top most business sector of Noida
Noida has large contribution in economic growth. It is home of MNCs, IT companies, BPO companies like IBM, Fujitsu, TCS, WIPRO, Padma Infocom, HCL, Tech Mahindra, Adobe Systems, Ericsson, Dell, Sparta Consulting, Patni Computers, Corbus etc.
The city is known as SEZ (Special Economic Zone). there is hub of auto mobiles industry like Escorts, Honda-SIEL, Moriroku Technology India Pvt Ltd and New Holland Tractors.
The city is also recognized as a hub of news channels & studio Aaj tak, Zee news, NDTV, IBP 7, ABP news etc. Commercial activities have also risen in recent years, with a spate of new malls and multiplexes.
UP was the second largest state in India with the GDP rate of $128.86 in which Noida has the largest contribution. there are number of small scale & large scale industries.
How SEO is useful for businesses in Noida ?
Noida is the hub of It industries ,BPO sectors, Hotels industries. And the population of city is 642,381 with the literacy rate of 88.58. The people of the city are dependable on internet & they search for various services & products in Noida.
SO If you have a plan to establish your business in Noida for Internet is best approach for you to make aware people about your products & services. So SEO is way to visible your business online. with help of SEO your website will be top on Google & search engines.
Even more of the business are not visible online & they are away to the reach of people, so losing their business. Search engines optimization is only way to target the people for you new brand business & drive more traffic on your website.
Our Locations in Uttar Pradesh
We provide various digital marketing services in Uttar pradesh like SEO (Search Engine optimization), PPC (Pay Per Click) ,ORM ( Online Reputation Management), Web design etc.
We provide our service cities of Uttar Pradesh like Kanpur, lucknow, Ghaziabad, Agra, Varanasi, Meerut, Allahbad, Bareilly, Aligarh, Moradabad, Saharanpur, Gorakhpur etc.
Contact Information
Name: PPCChamp
Phone Number: +91 9915337448
Skype ID: ppc.champ