SEO for Plumbing Companies
Are you a plumbing company? Do you have a website that is not ranked in Google and do not comes on top search results?– Then for sure you are losing your business. Very few companies are into SEO for Plumbing Companies as they think it as a small business.
A survey shot for Shamrock Plumbing Company proved the value of online presence for a company to grow its business as they received around 320 calls in a month for plumbing services in a small city Grants Pass in Oregon. This proves how SEO or online marketing can affect your business.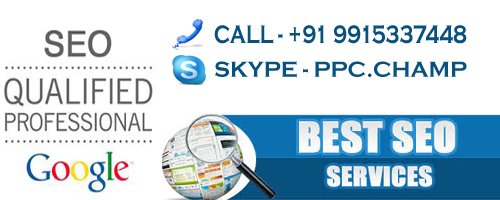 How SEO will affect your business?
SEO is Search Engine Optimization which means optimizing your website according to Google to get high rank and top search results to acquire more customer. Today, 65% of people surf on internet for their product. So, move to the new era of internet to grow your business by engaging more and more customers.
PPC is Pay per click which is also known as Google AdWords which is helpful to get instant business. It helps you convert visitors into customers.
PPCChamp SEO services for Plumbing Companies
We have highly experienced and skillful team working on Digital Marketing. We provide 360 online marketing services. PPCChamp is one of the best SEO and PPC managing company in India. We value our customer and help them grow their business.
After getting a great success in Astrology and Tech Support, PPCChamp is looking forward to work for plumbing companies. We have a team researching on plumbing company and their market.
There are thousands of people searching on the internet regarding plumber services for example a person looking for a plumber in Boston, he/she will search – "Plumber in Boston"
or something related to it, so what if your website appears at the top results of Google, you will be directly getting that customer as customer intends to click first, second or third link. So, get yourself online and make your business a brand.
PPT Presentation of SEO for Plumbing Companies
Why choose us?
PPCChamp gives its services for both SEO and PPC that too organically which means using White Hat strategies, which is highly recommended by Google. We work on Google's latest updates like Panda, Penguin, Hummingbird and Pigeon which makes us unique from other SEO companies.
Our Services
PPCChamp is providing SEO and PPC services for Plumbing Companies in several countries and their cities.
In India we provide our services in – Chandigarh, Delhi, Rajasthan, Mysore, Bangalore, Hyderabad, Mumbai.
In USA we provide our services in-New York, Washington DC, California, Houston, San Antonio.
In UK we provide our services in – London, Northampton, Southall, Aberdeen, Bristol, Cambridge.
In Canada – Grand Prairie (AB), Saskatoon (SK), Regina (SK), Moose Jaw (SK), Lloydminster (AB) and all nearby cities.
CONTACT INFORMATION
Name: Surjeet Thakur
Skype ID: ppc.champ
Address: SCO 177, 2nd floor, Sector 37 C, Chandigarh, India
Phone Number: +91 9915337448
PPCChamp is #1 SEO and PPC service provider. We have a team of experts who have 10+ years of experience. We provide these services at affordable prices. Feel free to contact us.