Online Reputation Management for Celebrities
"Character is like a tree and Reputation like a shadow. The Shadow is what we think of it; the tree is the real thing"
A celebrity or a Brand Ambassador needs to protect and project themselves responsibly through both online and offline mode. PPCChamp has a very proactive approach for Online Reputation Management for Celebrities helping them to manage any negative comment, content or news from reaching the top search results.
A single negative content or a blog or any kind of spam can go viral in millions through social media. It becomes very difficult for a celebrity to look after their online reputation and manage it. Celebrities brand image is the only way for a long journey. If people stopped liking you or start talking spam about you, your career falls their.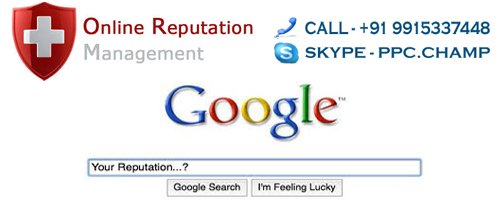 How Online Reputation management works for Celebrities
Online Reputation Management is the best weapon to hide the spam activities done by your competitor. We use several tools to detect these negative comments, posts, reviews and blogs and find the source and reviewer and check if it was posted intentionally or was a genuine one and make strategies to resolve it.
Role of ORM for Celebrities
Maintains the good will among people
Good to keep your brand image
Engaging with people to make yourself more popularize
Posting fresh content everyday about your positives to get people engage in conversation about you.
Remove False Negative Reviews and undesirable Content from the Internet
Social media sites like Facebook, Twitter and Google+ have caused celebrities to suffer hardships. The forums of public opinion are used frequently in a malicious manner and have had a big impact on an individuals ability to obtain work. The cost of online harassment can end careers, marriages and a person's ability to earn a living.
PPCChamp uses Online Reputation Management tools to track the negative reviews and other undesirable content and remove it from the internet. Sometimes it is intentionally done by your competitor to hurt your image, so we detect the reviewer and delete those unwanted reviews and complaint against the reviewer.
Reputation Management for Actors, Athletes, and other Personalities
Reputation Management is as necessary as their profession for Actors, actresses, producers, athletes,  and other public figures in the Spotlight. Actors, actresses, producers, athletes,  and other public figures are frequently attacked online and misrepresented by the media, obsessed fans and individuals. When you are at the high growing stage, their are many people or you can say your competitors writing scrap and negative about your character.
So, it becomes very important that we have a track of all the negative feeds coming around the world about you and detect the reviewer posting it, so that either we can solve it or take some action against that person. PPCChamp has several Online Reputation Management ORM tools to detect and track the negative comments and feeds posted by people about you which can help you to maintain your web image.
Press Releases and Social Media Pages Increase Popularity and Bring Success
A celebrity's web presence is a powerful component of marketing. If your are not engaged with people who like you, you will sooner or later lose them. PPCChamp manages your Social Media accounts for your publicity so that you can interact with your fans and increase your publicity. Internet Reputation Management helps you to resolve the issues which people have with you or your industry.
PPCChamp Services
PPCChamp is the #1 Digital Marketing Company working on 360 degree business development. We have expertise for-
SEO (Search Engine Optimization)
SMO/SEM (Social Media Optimization/ Search Engine Marketing)
PPC (Pay per click marketing)
ORM (Online Reputation Management)
Web Designing (UI/UX)
PPCChamp provides ORM services for famous personalities, actors, actress, politicians, business men, directors, high profile people, Companies, Industries, School, Colleges, Universities, Hospitals, Doctors, Lawyers, athletes, sports player,  Service providers and others as well in all the countries and their cities like India, USA, UK, Canada.
CONTACT INFORMATION:
Name: PPCChamp
Skype ID: ppc.champ
Phone Number: +91 9915337448
PPCChamp provides Online Reputation Management services at the best affordable prices. We have worked for over 500 clients worldwide and helped them to maintain their internet reputation as well.