how to create Facebook fan page for business
Facebook engagement is very powerful for any business, but first of all you have to know how to create Facebook fan page for business and optimize it for more engagement. Here I will go through step by step process for make effective Facebook page.
Now a days Facebook is biggest social media site in world, which is on number-2 according to Alexa traffic rank. Millions of people engage on Facebook and its very good idea to reach those people have need of your service or business value, by reach them using Facebook.
Steps for creating Facebook fan Page
For create Facebook page first you have to log-in to your Facebook account and click on drop-down arrow and then Click on Create Page link. Or you can directly create page through this link. A screen will be open as show below with your business category.
Choosing Correct category for your Facebook fan page
There are six major categories for creating Facebook fan page, but choose according to your business.
1.Local Business and Places:- If your business provide services in limited local area and situated at one place like, bank, school university, shops, real estate and movie theaters.
2. Company Organization or Institution:- This categories can be choose for any company it may be of small scale or big scale like automobile, bio chemical or other manufacturing.
3. Brand or Product:- If you are going to running a brand, product or website. then choose this categories. But brand will be categories according to users, like furniture, health, games and appliances.
4.Artist, Band and Public Figure:- Choose this category if you have a reputed public image and you are a celebrity, teacher, artist or sports person.
5. Entertainment:- Choose this option if you are going to create a page for source of entertainment for peoples like TV channels, Books, movie and radio station.
6. Community:- This option is choosing when you are going a group for any debate or community for discuss or chat with people in your community.
Fill all necessary detail about your Facebook fan page
After choosing categories for your business fill all require detail, I have discuss with choosing Local Businesses or Place. A screen will be show after select local business, as show below. Fill out all the details and with correct address or your business.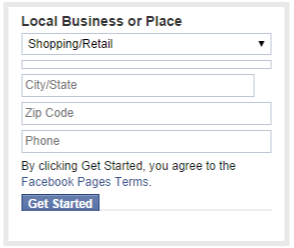 After that a small screen will be appear, where you can fill out all your basic information like Choose subcategories for your local business, and write about your business in sort description.
If your business have website then link it to your page, this will be show on your Facebook fan page and people can easily visit your website through this link. Add custom URL for access your page not use default URL provided by Facebook, this will also help you to show on Google search result.
Benefits of creating Facebook Fan Page Every Business
Now Facebook is most social engaging site in whole world, where you can reach and engage with every category of people. Let's discuss about few more benefits of Fan Page.
Facebook have millions of users means more chances to expose you business with them.
You can start your Facebook marketing without spending any amount.
Even you can reach your targeting audience with Facebook Marketing.
Complete Insight details of page and post, how they reach and engage people.
You also can increase your website traffic with sharing your article on Your page.
You can add review, map and contact info and hours of operation on fan page, and help users to customers to connect with you offline.
Facebook pages are easy to access by mobile after mobile friendly design.
If you have any problem contact Social media experts, we will be help you how to grow your business using Facebook and other social media site by engaging with audience.
Contact Information
NAME: PPCChamp
ADDRESS: SCO 177, 2nd Floor, Sector 37c, Chandigarh, India.
CONTACT NUMBER: +91 9915337448
Skype ID: ppc.champ